This Basel offers people big suprise, a few years ago, as the market environment is very good, the brand's high price watch, complex watch, craft watch more, the price is rising year after year, on the basis of the majority of people can afford watch updates of speed a lot faster (meaning soon become obsolete). 2015 is the first time the Swiss watch exports negative growth year since 2009, in such a situation objectively, this year's Basel Watch Fair in many ways showed a significant response to signals from the two Rolex Group brands – Rolex Dili rudder terms, precious metals and rare decline in the number of watches highlights, updated daily practical watch full upgrade, we launched a number of affordable classic and so on. These aspects will eventually be reflected in the sales market, as consumers spend the same money to buy a better watch.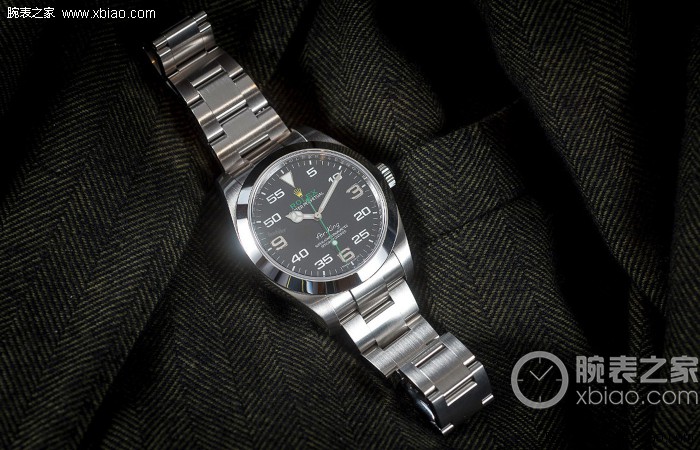 During World War I (1914-1918), the world into war, the Western industrialized countries advanced level of technology gave birth to a war weapon – the Air Force, however, the initial formation of the urgent need for a lot of sophisticated equipment to ensure that the task and reach their own lives security, one of which is a precise time indicating instrument. Therefore, we now look back when, understandably many modern pilot watches are originated during that period (especially World War II). Rolex existing product lines famous aviator watch Air King also developed from that era, in the 1930s, in order to then British Royal Air Force (a world's first independent air force) to provide precision watches, Rolex has opened a special product line , product size 32-33 mm, including the Air King, Air Lion, Air Tiger, Air Giant and other products, which the Air King with a simple sweep, clear scale, accurate travel time, rugged features have been popular down, other Air products have disappeared in the historical trend. In modern times, Air King has maintained a small case size of 34 mm, to pay tribute to this unique series, however, more and more small size does not meet the modern wrist size, to 2014, the series has almost "cut-off" ( from this point of view, industry consolidation should stop?).
2016, re-enable the Rolex Air King ace this military form series, which is the only existing professional pilots Rolex watch products, is about 80-year history of ups and downs after settling down precious "heritage." The new Rolex Air King watch large size direct extension to 40 mm, the internal use of top Rolex chronometer certification magnetic super 3131 automatic movement, yes, has been used in Milguass before this movement. Interestingly, the first use of the Rolex brand's iconic golden crown in the modern watch their own brand name and green combination, this eye-catching design allows Air King more dynamic fashion. Some say the new Air King Rolex design derived from its partners BLOODHOUND SSC team (this year will challenge the speed of 1609 km, breaking the world land speed record) made dashboard, indeed, both of similar design. Therefore, we can say the highlight of the new Air King too much, but for all modern configuration.
Follow this link to buy this watch::http://www.watches117.cn/rolex-air-king-black-dial-stainless-steel-men-s-watch-116900bkao
Save